Total NAS App Worldwide
0767
Поиск
Коллекция
Категории
Логин разработчика
Поддержка
Xeams Mail Server
Описание
Xeams eXtended Email And Messaging Server

Xeams is a secure & powerful mail server for Windows, Linux, Solaris, MacOSX and other flavors or UNIX, which supports SMTP, POP3, and IMAP. It includes a powerful spam/junk filtering engine that elimates up to 99% of junk email right out of the box. The software offers a flexible approach to email, making it a very user friendly server.
3 modes of operation
Характеристики
Require Ejre7 installed as prior before run this module
Xeams can be run in 3 different configurations:

Full Email Server - No other email server is required
Spam Wirewall - Processes junk emails and forwards good messages to another email server, such as Microsoft Exchange, Sendmail or Novel Groupwise.
Hybrid Mode - A combination of both options providing redundancy to your email infrastructure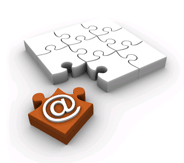 Stand alone mode

Xeams runs as a full email server in this mode, supporting SMTP, IMAP and POP3 protocols. Every user has their own Inbox. Incoming emails are checked against spam filters and then are forwarded to appropriate inboxes.
Users can use any email client, such as Xeams web client, MS Outlook, Thunderbird or any other client that supports POP3 or IMAP protocols to fetch new emails.

No other email server is required if you use Xeams in this mode. This is the default mode of operation.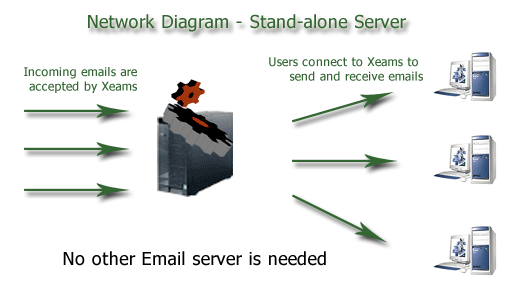 Spam Firewall

In this mode Xeams acts like a firewall that sits in front of your corporate email server. Every in-bound email is checked by Xeams before it is forwarding the message to the actual email server. Similarly, every outbound message is checked before delivering it to its final destination.

Xeams works with any email server that supports the SMTP protocol, including Microsoft Exchange, Sendmail, Novel Groupwise, Lotus Notes and others.

Xeams provides two types of SMTP servers when operating in this mode:

Normal SMTP Server

This is a typical SMTP server that accepts emails and queues them for delivery. It requires that you specify a set of local domains handled by the server. If any email comes in for a different domain and relaying is allowed, the message will be delivered to the final destination server.

This SMTP server can be used for both in-bound and out-bound mail delivery

SMTP Proxy Server

This is not a full SMTP server. It is a proxy server - meaning it requires another SMTP server (actual server) to connect to. Clients always connect to the actual server through the proxy server, which has the capability of monitoring emails, change its contents and block them if necessary.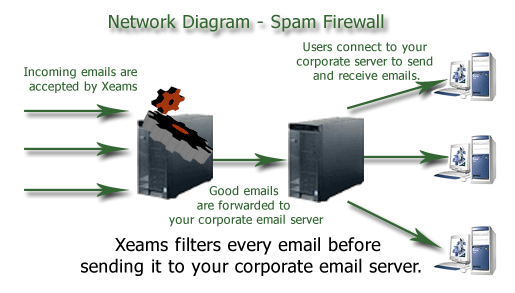 Hybrid mode

This is a combination of mode 1 and 2. User's inboxes are created on two locations: Xeams and your corporate email server. Users have a choice of using either one of them.

Although, every email gets copied at two locations, it provides redundency for your corporate email infrastructure.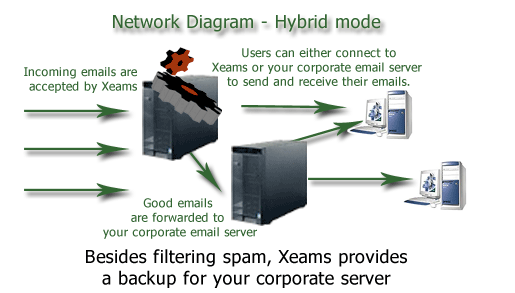 Top 10 reasons to use Xeams

Completely free - You don't have to pay anything to use Xeams. Whether you represent a large company, a government organization or a small company with a handful of users, you don't have to spend a single dime in order to use it. More info...
Freedom of choice - You decide if you want to use Xeams as your primary email server or just use it to filter spam. Either way, Xeams provides a robust and reliable server that efficiently handles your email infrastructure. More info...
Web-based administration - Configuration in Xeams is 100% web-based allowing administrators to manage their server from any computer. Besides administrators, end-users can also log in to their accounts to view messages and modify their filtering rules. More info...
Unparalleled support - Our service doesn't stop at the implementation of your solution. Members of our support team are available through different channels to help you if needed. These include access to our experienced support team in person, one-on-one, via telephone, email or through public forums on our website.
Multiple platforms - You pick the operating system that best fits your need. Xeams runs on every major operating environments, including Microsoft Windows, Linux, Solaris, MacOSx and other flavors of UNIX.
99% spam protection - Xeams can block 99% percent of all junk messages right out of the box. The filtering rules are fully customizable and get better as Xeams adapts to your email environment.
Company policy enforcement - Xeams enforces corporate email policies, prevents intentional or inadvertent breaches, and mitigates insider threats. By delivering a flexible policy engine, numerous message dispositions, and policy-specific content, Xeams enables companies to proactively manage their information flow to protect corporate secrets, prevent inappropriate behavior, and ensure that sensitive information is not released.
Auto updates - Xeams provides two types of updates: a) Rules update, which pull new rules to protect you against junk emails, viruses and phishing attacks. b) Server updates, which pull new features and bug fixes to the server engine without any human interaction.
Message archiving - If required, Xeams can serves as an excellent archiving system. Companies can archive in-bound and out-bound messages using Xeams. Archiving is done regardless of the mode of operation you are using. This makes Xeams a perfect companion to servers like Microsoft Exchange when it comes to message archiving
Extensive reporting - Out of the box Xeams provides several reports that accurately report the usage and load trends on your server. The Live Monitoring feature in Xeams provides a summary of emails as they arrive in your system.
Документация
Сочетаемые модели
N2310, N4310,